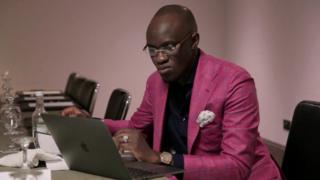 An evangelical church praised for helping ex-gang members has been accused of financially exploiting young people from its congregation.
One member of charity SPAC Nation said she was persuaded to commit benefit fraud by a trustee, while another said she had a £5,000 loan taken out in her name without her knowledge.
A former senior insider told the BBC that the church "has to be shut down".
SPAC Nation denies the church is financially exploiting young people.
Kurtis, 23, was one of the church's trusted inner circle until his departure in January this year.
He appears in a BBC Panorama investigation into SPAC Nation, which is accused of leaving young people with debts of thousands of pounds.
"Certain leaders shouldn't be around youth, they shouldn't be around anywhere where people are vulnerable," he said.
The church's leader Pastor Tobi Adegboyega "has to be held accountable", Kurtis added.
Gracy was 21 when she joined SPAC in 2017. She told Panorama she was encouraged to apply for Universal Credit after her Pastor Ebo Dougan – who is also a trustee of the charity – noticed she had stopped giving money to the church.
She handed over her details to Pastor Dougan and someone filled out an online application form on her behalf. She then attended a meeting at the job centre.
The BBC has seen messages and documentation that confirm her version of events.
Gracy's online application shows that after she left the appointment someone changed her details to show that she had two children. This made her eligible for a £1,200 payment.
"Even sometimes when we know things are wrong, in that moment I'm just thinking like 'OK, my father figure would not tell me to do something bad'," she said.
Gracy was told to pay £900 of the sum into two accounts. She kept the rest, but was later investigated by the Department for Work and Pensions, who fined her £600 and ordered her to repay the £1,200.
"I can't afford it obviously," she said. "I feel heartbroken because I thought this was supposed to be a family."
Lovis was 18 when a loan was taken out in her name and without her knowledge, she said.
She was diagnosed with kidney cancer in November 2017.
The illness left her unable to continue working as an assistant sous chef and she began looking for a job with less demanding hours.
She was invited to an interview at a firm called Zuriel Recruitment. The agency was run by Tobi Adegboyega's second in command Samuel Akokhia, who has a conviction for attempted robbery.
At the interview Lovis provided Zuriel Recruitment with personal details including a photocopy of her passport, her home address, her mobile number and bank account details.
At the end of the process, her interviewer – a pastor at SPAC Nation – encouraged her to attend a service that week.
"It was a bit weird," she said. "But at the end of the day it's church – so I didn't really think much of it."
'For the greater good'
Lovis started going to SPAC Nation services and several months later moved into a safe house – known as a "TRAP house" – run by Pastor Samuel Akokhia.
In March Lovis discovered a £5,000 four-year loan had been taken out in her name without her knowledge.
The money never reached her, instead being transferred to a company called E. R. Management Group. That company is run and owned by Emmanuel Akokhia, Samuel's brother.
BBC Panorama has seen paperwork confirming the money trail. It is not known what happened to the money after it arrived in E. R. Management Group's account.
Lovis confronted a senior pastor about the loan.
"They basically said the loan was for the greater good and they were going to use the money to buy a bigger TRAP house to accommodate more people," she said.
"And I was thinking 'that's all well and good – but why did I not know about it?'"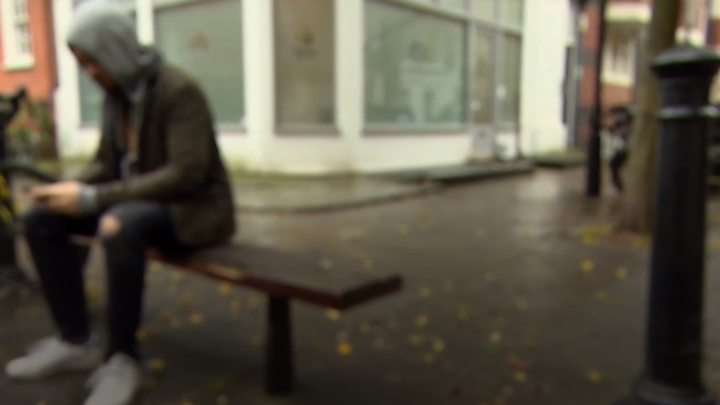 On Friday the charities regulator revealed it had opened its own investigation into SPAC Nation's safeguarding and finances.
The Charity Commission also ordered SPAC Nation to "bank its money".
The Metropolitan Police is reviewing allegations of possible fraud and other offences before deciding whether to investigate further.
SPAC Nation denies that the church's lead pastor Tobi Adegboyega is financially exploiting young people.
It said the church had a "robust complaints procedure" and "a well run disciplinary system".
SPAC Nation told the BBC that the church "is not responsible what goes on inside individual leaders' or members' houses".
Tobi Adegboyega ignored BBC Panorama's request for an interview.
Watch the full investigation on Panorama at 19:30 GMT or afterwards on BBC iPlayer.
Great Britain ended a 26-year wait for Fed Cup promotion when Katie Boulter fought back to seal their 3-1 win over Kazakhstan and spark jubilant scenes.
The team raced on to the court and hugged Boulter after she beat Zarina Diyas 6-7 (1-7) 6-4 6-1.
The British number two trailed by a set and a break – and needed a hot water bottle on her back during changeovers – but refused to give up.
Johanna Konta had earlier put Britain one win away from World Group II.
Konta's own stunning comeback from 4-1 down in the final set to beat Yulia Putintseva 4-6 6-2 7-5 had given the home crowd in London belief that Britain would finally earn promotion in what was their fifth play-off in eight years.
For a while, it seemed the wait would continue as Boulter lost her grip on the match, having won the opening two games, but when she completed her comeback with an emphatic ace on match point, the celebrations began.
"Ah, finally! I'm ecstatic for the team," said Britain captain Anne Keothavong, whose team paraded around the Copper Box Arena, firing tennis balls into the crowd.
"It was such an incredible effort. We kept putting ourselves in this position. But I really feel that having the home advantage this time around made a big difference."
Celebratory scenes as Boulter finishes the job
After watching Konta come from 4-1 down in the deciding set to beat Kazakh number one Putintseva, Boulter knew victory in her match would seal the tie for Britain.
Boulter admitted she was "struggling physically" during her defeat by Putintseva on Saturday and although she swiftly took a 2-0 lead in the opening set, she repeatedly sat with a hot water bottle on her back during changeovers.
Diyas – who Konta needed two hours and 38 minutes to beat on Saturday – started to find her groove and responded to take the set to a tie-break.
Boulter said Saturday's dramatic defeat – which came despite her holding three match points – would stay in her mind "for a long time" and she seemed nervous – only picking up one point as Diyas comfortably won the tie-break 7-1.
The Kazakh gained the advantage in the second set too but was seemingly distracted by a car alarm seconds before double-faulting and allowing Boulter to break back at 2-2.
The addition of a few drums in the British crowd – to compete with the noisy Kazakh band that had been providing a soundtrack to the action – built a more intimidating atmosphere and Boulter thrived off their support, breaking again late to win the set.
Diyas and Boulter had already suffered three-set defeats this weekend but the Briton was determined not to lose another.
The 22-year-old British number two was quickly 2-0 up before she held off a break point in the third game of the third set – prompting a standing ovation from the home fans.
A lucky net cord helped bring up break point for Boulter at 3-0 up but Diyas saved it with a thumping serve.
That only delayed Boulter's move to increase her advantage as she turned up the gears to make it 5-1.
Konta, fresh from her victory, joined Heather Watson, Katie Swan and Harriet Dart on court ready to celebrate.
And Boulter, on her third match point, threw her arms up in celebration as the crowd erupted in joy.
"I was so nervous watching Katie on the side of the court," said Konta. "I'm sweating so much. We have been in this position for the last three years in a row.
"I am almost speechless which is not normal. I'm still sweating!"
Konta battles back again
Konta has not done things the easy way in the Fed Cup of late – her past five matches in the women's team tennis competition have gone to three sets.
And so she was always going to be in for a battle against Kazakh number one Putintseva, who fought back from 5-2 down in the third set to win the tie-break against Boulter on Saturday.
World number 38 Putintseva – ranked eight places above Konta – showed no signs of tiredness against the Briton, holding off three break points in her first service game before needing just one to take a 2-1 lead.
Konta, who had started with intensity and good variation, broke back immediately and seemed to feed off a much more vocal home crowd.
When Putintseva broke again to move 5-4 up before serving for the first set, Konta responded by silencing the noisy Kazakh band's drums and trumpet for most of the second set – breaking twice and winning 68% of the total points in a dominant display.
Momentum was with the Briton but the crowd were still wary – they had seen Putintseva come from behind the previous day.
The Kazakh was given a taste of her own medicine, though, as it was Konta who completed a resilient fightback.
Putintseva had shown signs of weakness. She had her blood pressure taken during a medical time-out, while ice was applied to her neck and head while she trailed 3-0 in the second set.
Konta went on to take that set in style but then went 4-1 down in the third – two quick breaks followed a time violation and the Briton showed her frustrations by arguing with the umpire.
She did not give up, though, finally breaking back at the third time of asking at 4-2 and went on to win 16 of the last 19 points to seal her 11th successive Fed Cup singles victory.